Mercedes-Benz is known for their world-class style and performance. You need to take good care of your Mercedes to ensure it stays at peak performance. If you notice any issues, you need to get it checked out immediately. Over time, automotive components get worn out and fail. When a major part fails, such as an ignition coil, it can have serious repercussions. You may notice your Mercedes failing to start or that it now has poor engine performance.
If you suspect that an ignition coil in your Mercedes is starting to go out or has already failed, bring it to Swedish Auto Service, where our experienced technicians can quickly diagnose and repair the issue to get you back on the road safely.
To fully understand the importance of an ignition coil, it is essential to know what it does. An ignition coil helps provide the necessary voltage needed to create a spark to ignite your fuel inside of your engine. Depending on the size of your engine, the number of ignition coils will change.
For a V6 engine, you will generally have six ignition coils to help in the combustion process to provide power and performance. If one of these ignition coils goes bad, you may experience a few different symptoms from your vehicle not starting to poor fuel economy.
The average life of an ignition coil is about 100,000 miles. It should be replaced at the end of its lifespan. It may be tempting to replace the ignition coils yourself, but you could end up causing more damage than good if you do not know what you are doing.
Symptoms of a Bad Ignition Coil
There are several common signs that you have a bad ignition coil inside your Mercedes. If you notice any of these issues, you should come to see us today because we have the expertise, tools, and technology to get you back on the road fast.
Check Engine Light Turns On: The check engine lights come on when your car detects an issue with your engine. This will not be the only issue that you will see, but whenever the check engine light comes on, you should not ignore it.
Hard Time Starting: An ignition coil converts the voltage from your battery into enough electricity to create a spark on your spark plug. With a defective coil, it may not produce enough voltage to ignite the fuel.
Poor Fuel Economy: If your Mercedes starts and you have a defective ignition coil, some fuel may not ignite. The system, in turn, may believe that your engine is not getting enough fuel to run properly and injects more fuel into your engine.
Stalling or Misfiring: Your Mercedes might stall or misfire if you have a bad ignition coil. Your engine may stall if you stop in traffic or at a light. While driving, you may experience a misfire, and your Mercedes starts to make noises or becomes rough to drive.
If you procrastinate with any of the issues above, you can make matters worse. A simple, affordable repair such as replacing an ignition coil can turn into an expensive one, such as having to repair complete engine failure.
If you notice any of the above signs, come to see us at Swedish Auto Service immediately. We will get you back on the road fast.
Swedish Auto Service is Austins #1 Dealership Alternative
Swedish Auto Service has been the premium dealership alternative in Austin, TX since 1993. We are proud to serve the surrounding areas of:
Cedar Park
Round Rock
Leander
We will provide you with a hassle-free experience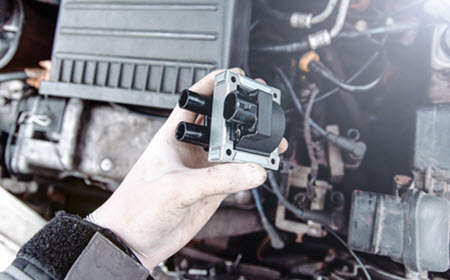 with honest pricing. We never cut corners and will ensure that you get the best service possible from our experienced ASE-certified technicians.
Our team is equipped with the latest factory-grade tools and equipment and can handle any repair, from replacing your ignition coil to critical engine repair. All of our work is backed by a 12-Month/12,000-mile warranty.
Dealerships are expensive and have long wait times, and they may not care much for retaining your business. At Swedish Auto Service, we strive to give you the personalized level of care that you deserve. Call us today or make an appointment online. We look forward to serving you!