Mercedes cars are an engineering marvel, being one of the "Big 3" German car brands. They are not only known for being luxurious but also for being reliable, safe, and high-performance cars. However, this does not mean that they are devoid of problems. One such issue is a transmission leak.
The transmission in your car is what transfers the engine's power to the wheels to propel your Mercedes vehicle forward. The transmission is a part of the power system that delivers power in a controlled manner.
The transmission refers to the entire drivetrain, including the gearbox, clutch, prop shaft, and final drive shafts. The high rotational speed of engines makes them difficult to start, stop, and travel at a slower speed. In turn, this lower wheel speed increases torque as the higher engine speed is slowed down by the transmission.
That said, transmission fluid is essential to the operation and overall performance of the transmission system. This fluid is responsible for lubricating mechanical parts, maintaining fluid pressure, cooling, preventing oxidation, conditioning the gasket, and preventing rust. When there is a leak, your Mercedes can develop many problems.
Causes of Transmission Leaks
The transmission system is complex because there are multiple seals, valves, hoses, and other areas where leaks can occur. Your transmission could be leaking from any of the transmission system's components. Because of the sophistication of the transmission system, the problem should be assessed by Master mechanics who are familiar with Mercedes models. The aftermath of a transmission leak could be disastrous, and it will most likely cost your Mercedes performance; therefore, it's critical to address any leak as soon as possible.
Upon inspection, our mechanic may discover that the leak is caused by a leaking seal, leaking fluid line, or leaking pump. Because these parts will eventually wear out, it is beneficial to have regular inspections and tuneups.
Transmission leaks can also be caused by other factors which include:
Transmission Pan Puncture: Your car's transmission pan, which is located on the underside of the vehicle, is designed to hold transmission fluid. It is vulnerable to damage from rocks or debris striking it. Transmission fluid will leak from the hole if the pan is punctured.
Improperly-Tightened Drain Plug: If the drain plug under your drain pan is not tight enough, fluid may leak out. If the drain plug becomes too tight, then the threading on the plug could be damaged, leading to leakages. It's critical to strike the right balance. Unfortunately, this happens frequently after transmission fluid is changed, so regardless of who changes the fluid, make sure the drain plug is installed
Broken Torque Converter: Transmission fluid circulates around the torque converter, keeping it lubricated, so if there is a fracture in the converter, fluid will start to seep out.
Signs of a Transmission Leak
Transmission fluid under your car is the most obvious sign of a leak. Transmission fluid can be distinguished from other fluids in your vehicle by its appearance: it is typically red, slick, and has an oily odor.
When everything is in order, your car's gears shift with ease. However, if you notice a pause or slipping in your car's acceleration when you push the gas pedal, you should have your transmission system and levels of fluid inspected right away. If the fluids are too low, you may also hear cranking and gurgling noises.
Your car's transmission system does a great deal of work. While some heat is normal, extreme heat is a sign that it may be leaking. Without the correct amount of fluid, your system will quickly overheat. Keep an eye on your car's temperature gauge as well as the temperature of the floorboard.
Swedish Auto Service
A transmission leak can be a nuisance. Your Mercedes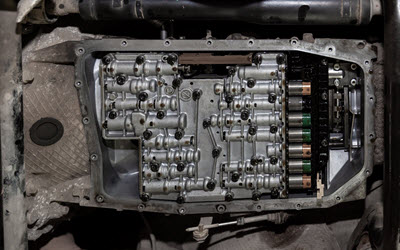 was designed to provide you with a luxurious ride and only the best mechanics will be able to keep it in top shape. Swedish Auto Service believes in cost-effective and qualitative maintenance. Our shops are stocked with up-to-date factory-grade tools and equipment to provide the best services possible for your car.
We provide fast and affordable services for your Mercedes Benz, so give us a call today or stop by our shop if you are in or around Cedar Park, Round Rock, Leander, or Austin, TX. Allow us to earn your business today.