The Swedish luxury car manufacturer, Volvo, is known for producing cars with superb handling and state-of-the-art technological features. Though Volvo has the perfect balance of steering, suspension, and power, it can be very difficult to drive when the tie rod starts failing. Volvo cars depend on a properly-functioning tie rod for smooth steering. The tie rod connects the steering system at the car's center to the tire system, creating a push and pull motion that allows the wheels to turn.
Dealing with a failed tie rod can be very dangerous and life-threatening because you are at risk of a total loss of control of your Volvo. To avoid tie rod failure, we must investigate the causes as well as the symptoms.
Danger Signs of a Failing Tie Rod
Your Volvo tie rods will start exhibiting a few danger signs when they fail. Ignoring these signs puts you at the risk of severe injuries to yourself and your vehicle. If your tie rods are failing, you must take your Volvo to a certified automotive specialist to have it diagnosed and replaced. Let's analyze some of the danger signs of tie rod failure in Volvo:
Uneven Wear and Tear of Tires: It is totally normal to experience wear and tear of your tires when driving, but it should be even. Situations where you discover that the wear of your tires is uneven, it implies that there is something wrong underneath the surface and requires the urgent attention of a certified automotive expert. The damage of your Volvo's tie rods leads to misalignment of your tires and would cause them to wear out unevenly.
Misalignment of the Front End: The tie rod end works concurrently with other components that aid in suspension to ensure proper alignment of the Volvo's front end. When the tie rod fails, some important parts connected to the tie rod can become loose, which means the front-end alignment will be off. This results in your vehicle drifting from a straight-on direction to pulling to the right or left even when it is being steered straight.
Steering Problems: The tie rod is connected to the steering components, and as such, any damage to the tie rod would definitely cause the steering wheel to malfunction as well. A failed tie rod can be very dangerous as it causes the steering wheel to lose stability while trying to complete turns, resulting in an unexpected drift. This puts you out of control, which is not a safe zone to be in. Ensure to take your Volvo to a certified mechanic if while driving, you observe excessive vibrating or shaking of the steering wheel, it's an indication that your tie rods could be damaged.
Possible Causes of Tie Rod Failure
Rough terrain or bad roads: When you drive on rough terrain frequently, you may cause your wheels to be misaligned and your tie rods to break. Since the tie rod is connected to your suspension system, this might happen. Your steering system will be affected by the rigors and impacts on your suspension system.
Wear and tear: During an extended period of use, the tie rod will wear down and need to be replaced due to natural wear and tear. Your Volvo's tie rods are likely to break down faster the more you use it.
We Can Help Fix your Tie Rod
At Swedish Auto Service, we're happy to offer drivers a friendlier option than a dealership, and we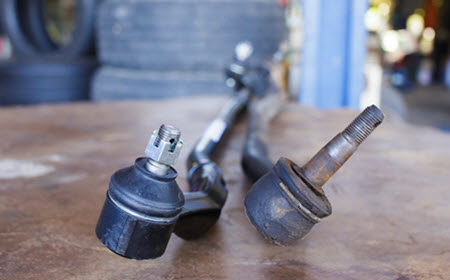 will never take shortcuts on repairs or sacrifice quality or customer service. We maintain our shop stocked with the most recent factory-grade tools and equipment available so that we can always meet all of your car's demands.
Our helpful team will go through all of your vehicle's service choices with you, assisting you in designing a personalized plan that meets your vehicle's needs and budget, giving you the last word before any work is performed.
Swedish Auto Service, located in Austin, is happy to be the go-to independent business for drivers in places such as Austin, Cedar Park, Round Rock, and Leander. Please give us a call or stop by our shop now if you have any questions for our knowledgeable team or to arrange your vehicle's next repair appointment.