The HVAC system is your BMW's Heating, Ventilation, and Air Conditioning. The blower in your BMW helps regulate the temperature in your vehicle's cabin. Its major function is to blow heat when your car's heater is turned on, and release cool air when you use the air conditioner.
Depending on your demands, hot or cold air is circulated in your cabin. This air is controlled by the buttons on the climate control unit of your BMW's dashboard. A faulty HVAC blower can make it very unpleasant for you in extreme weather conditions. Maintaining its proper function is important to your driving experience and to keep your passengers comfortable at all times.
Causes of HVAC Blower Failure
It is important to understand why the HVAC blower of your BMW is faulty, as it would go a long way to help prevent future occurrences. Here are some causes:
Malfunctioning of any of the components of the HVAC blower system: The HVAC blower in your BMV is made up of different components, and a fault in any of these components may lead to the failure of the entire system. Sometimes it may be the electrical components fail or a burned out blower motor. Other times, there might be a short circuit in the control module. Whatever the case, it may lead to the failure of the entire system.
Vehicle Aging: As your BMW puts on the miles, the original components in the vehicle begin to experience wear and tear due to overuse. This could lead to problems with the HVAC blower of your BMW. The motor and electrical components may begin to wear out and might not be able to perform as designed. There's no way to avoid the aging of your vehicle's parts, but proper maintenance can help to prolong the life of these components. If you want your car to serve you better and longer, commit yourself to regular maintenance.
Signs of a Bad BMW HVAC Blower
The following symptoms may be a sign that the HVAC blower of your BMW is faulty:
Weak Airflow: When you notice that the air coming out of the air vents is lower than normal, it could be a sign that the motor of the HVAC blower is wearing down making the regulation of interior temperature more difficult.
Lack of airflow: Normally, when your HVAC blower is turned on, you should notice air coming out from the vents. If nothing happens, then the HVAC blower has likely failed. Most times, what causes this is a short circuit in one of the components of the HVAC system. You need to pay attention to this, as it is an obvious sign of a failed HVAC blower.
Fans operating only at some speeds: A functional HVAC blower has the capability to operate at different speed ranges. When you notice that it operates only on high or low, it is an indication of a fault. A faulty motor or switch would cause the HVAC blower of your BMW to only respond to a particular speed.
If you notice any of these symptoms in your BMW, it is important that you bring your car to our BMW experts.
BMW Expert in fixing HVAC Blower Failure in Austin
Do not hesitate to bring your BMW to Swedish Auto Service whenever you notice any of the above symptoms.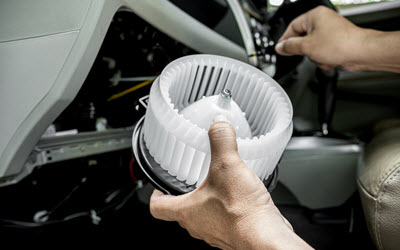 We have trained professionals who will ensure that the problem is fixed as soon as possible with OEM parts and BMW tools.
We have made a reputable name for ourselves as the go-to repair center for vehicle owners in Austin since 1993. We are committed to providing the best quality of service at the best price and without delays, excuses, or shoddy workmanship. We treat your car the way we'd want our BMW serviced and handled.
Our customers come from all over Cedar Park, Round Rock, Leander, and neighboring towns to visit our shop because we've earned their trust and patronage. We are located at 11008 North Lamar Boulevard in Austin, TX. You can reach us at 512-836-0022 or visit our repair shop for any inquiries. We are glad to serve you. Book an appointment with us now!