The Volvo is known for its dependable components, and its steering system is no exception. At the core of Volvo's efficient steering system is the steering gear and rack, which directs torque input from the driver to the wheels in order to change their orientation and obtain a desired direction. Both manual and power assisted systems are available as well, providing drivers with maximum control and comfort.
The Volvo's hydraulic power steering can also be upgraded with Volvo's patented Servotronic Assist. This cutting-edge technology uses sensors that detect speed and driving conditions such as cornering, providing assistance precisely when needed. Volvo's reliable steering components ensure an optimal driving experience every time you get behind the wheel. When this complex steering system begins to fail or have problems, you'll want the help of experienced mechanics who you can trust.
Detecting a Steering Problem
If you notice any of these common signs when driving your Volvo, then it could indicate that you might have a steering problem:
hear noises when turning the wheel or applying brakes
feel shaking when driving or braking
have difficulty guiding the car in a straight line
feel vibrations in the steering wheel
It's best to get your Volvo checked out by an experienced professional if you notice any of these signs so that you can put your mind at ease and get back on the road safely.
Common Reasons for Steering Issues
The most common reasons Volvo car owners report a steering issue include malfunctioning power steering components, low levels of power steering fluid, or loose/worn suspension parts. Malfunctioning power steering components can cause Volvo vehicles to operate with increased vibration that leads to poor handling and general unresponsiveness when driving. Low levels of power steering fluid may result in hard turning and difficulty maneuvering through tight turns, while the wearing down of suspension parts can create delayed reactions to the driver's inputs into the vehicle's controls.
Also, this problem can be caused by old or contaminated power steering fluid, faulty motors or pumps, and even electrical issues with the car's onboard computer. Lastly, wheel misalignment can cause Volvo owners to have issues with their steering if left unfixed.
All Volvo owners would be wise to regularly inspect the functionality of their car's system components in order to help guard against potential problems.
Proactive Prevention of Problems
Volvo cars are well known for their unparalleled quality, but they can suffer from steering problems down the line if not properly maintained. The good news is that many Volvo steering issues can be prevented with some easy maintenance routine checks.
Volvo owners should routinely check their power steering fluid levels to ensure the level is consistent and frequently inspect their suspension components including bushings and shocks to look for unwanted wear or signs of corrosion. Additionally, Volvo drivers should periodically inspect their tie rods and ball joints to make sure they are still in working condition as these components can lead to Volvo steering difficulties if ignored. With this simple routine maintenance process in place, Volvo drivers can be confident knowing that any potential steering issues will be caught before trouble arises.
Swedish Auto Service
At Swedish Auto Service, we take Volvo car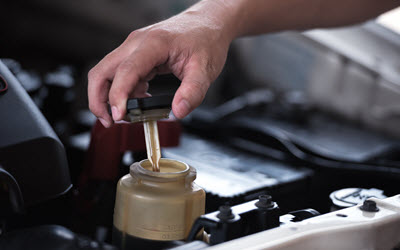 troubles very seriously. We know our clients value their Volvo vehicles, and we strive to provide excellent service when it comes to diagnosing and fixing Volvo steering problems.
Our mechanics are Volvo-certified and no job is too big or small. We have the experience and knowledge necessary to find the root of any Volvo steering issue, whether it be a worn out bearing or a slow response rate.
We work to provide you with a transparent invoice that includes all of the costs associated with the service you require. We value full transparency. Our love for Volvos, Saabs, BMWs, and other foreign vehicles motivates us to offer valuable suggestions regarding your vehicle's care. When you use our services, rest assured we take care of your vehicle as if it were our own. If you live in or around Cedar Park, Round Rock, Leander, and Austin, TX, call us today to make a convenient appointment or stop into our auto center to speak with our representatives. We look forward to earning your business.