Volvo is renowned globally for the manufacturing of premium luxury and technologically advanced cars. As a result, you can decide to get a used Volvo car in very good condition for a fair price. Floods can damage some vehicle components and make your Volvo unusable. Let's take a closer look at how you can spot a flood-damaged vehicle.
The Risks
Purchasing a used Volvo might save you a lot of money, but it can be detrimental if you don't get a good deal on the right car. You might end up with a seriously damaged Volvo for which you wind up spending lots of cash trying to fix.
One of the issues with used cars is that many of them have been flood-damaged. Recent flooding in the United States has ravaged areas with car dealerships, causing devastating losses. These vehicles are often damaged, but how would a buyer know?
When it comes to flood damage, not all Volvo dealers are honest, and putting it back in order might be very expensive. Even if a car appears to be in good condition and appears to be running properly, costly issues might arise later as rust continues to seep into and damage crucial parts. Flood-damaged vehicles may cost more than just money. These vehicles can be unsafe to drive.
A flood-damaged Volvo can be difficult to identify, but recognizing the warning signs can be of help.
Check for Dirt Buildup
A Volvo stranded in a flood will accumulate all manner of debris, such as silt, sand, dirt, and grass, as the water carries it in. Oftentimes after the water level may have receded, the debris may remain even though the water is gone. When someone is cleaning a car, it's challenging to get everything spotless. Hence, it is important to look where some of the debris may be retained after a flood when inspecting a used car.
Here are some examples of such areas:
Deep inside the wheel wells
Under the seats and the seating tracks
Below the dashboard
Under the spare
The car's trunk
The engine crevices
Inside and below the glove compartment.
If you locate debris in these regions, the automobile may have been submerged at one time.
Check For Fogged Headlights and Tail Light Covers
It doesn't matter how hard the seller tries to cover up flood damage on a car, there are some areas that may never dry out. Thoroughly examine the headlights and taillights. It is possible for them to look foggy if water has become trapped inside them.
The instrument panel, as well as the interior and exterior mirrors, might suffer from the same problem. If they seem foggy, this indicates that moisture has not yet dissipated.
Overhangs inside wheel wells tend to accumulate water as well, so watch out for dampness, corrosion, and water lines. Additionally, look for any water lines in the doors and trunk, as these can give insight into how high the water level was when the car was sitting in water.
Inspect the Car's Interior
A closer look at the upholstery of a car can reveal a flood cover up as well. Make sure to examine both beneath and on top of the seats, if you find a blotchy, brown spot on your upholstery, it's an indication that the car may have been flooded.
The carpet's quality will also give you a clue. Be suspicious if the carpet on a 10-year-old car looks new. In the same vein, if you observe that different sections of the car's upholstery do not match, as some areas seem faded or newer it is likely someone has removed the water-stained areas. Ask if it's simply been replaced for cosmetic purposes, as this may be the case, but still search the other areas we've mentioned.
You Can Rely On Us to Help
If you require the services of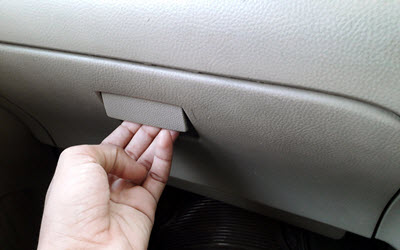 a certified Volvo expert to help you identify or fix a flood-damaged car, reach out to us at Swedish Auto Service. We will inspect a pre-owned Volvo to make sure you get the best car available so you can enjoy the amenities, interior comforts, and superior performance provided by Volvo.
We are located in Austin, and we are proud to assist Volvo owners in surrounding cities like Austin, Cedar Park, Round Rock, and Leander. Contact us or visit our shop today for any inquiries or issues, as we are more than happy to be at your service!
* Volvo XC40 Car image credit goes to: y_carfan.